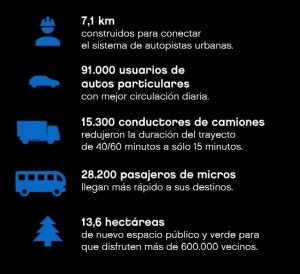 The most important road construction project in the City of Buenos Aires in the last 50 years, which was jointly supervised by AC&A and INECO, celebrated its first anniversary last May 27. This colossal engineering work, located in an area historically characterized by traffic jams and pollution, allowed to alleviate vehicular circulation and added 13.6 new hectares of green space with the consequent positive impact on mobility and the environment.
Throughout its more than 7 kilometers, the Paseo del Bajo connects the Illia, 25 de Mayo and Buenos Aires-La Plata highways, and runs through the Buenos Aires neighborhoods of San Telmo, Monserrat, San Nicolás, Puerto Madero, Retiro and Recoleta. It has four exclusive lanes for long-distance trucks and buses, and eight lanes for light vehicles, four northbound and four southbound, all along the viaduct between the Illia highway and Puerto Madero.
With a modern and imposing architectural design, this historic work has three thousand meters of semi-covered trench cast wall structures (60% open and 40% closed), 10 vehicular bridges and 9 pedestrian walkways, which include ramps at the beginning of the section to descend from the level of the South Node Viaduct deck to the bottom slab of the trench. It should be noted that, in this section, a new railway line was built to displace the existing route. Throughout this set of nodes, the green spaces and parks along the route restore the lost relationship between the river and the city, and add new green areas for the recreation and joy of passers-by.
This monumental project was not only praised by numerous specialized analysts, but also received the most important award in urban engineering by the Argentine Road Association as the best urban job of the year in 2019.
At AC&A we celebrate the first year of operation of the Paseo del Bajo, which benefited millions of Argentines by shortening daily times and distances besides favoring the rearrangement of roads and providing the necessary agility for the circulation of heavy and light traffic.